Financial institutions are sitting on a goldmine of data.
Are you using it and do you have the right tools?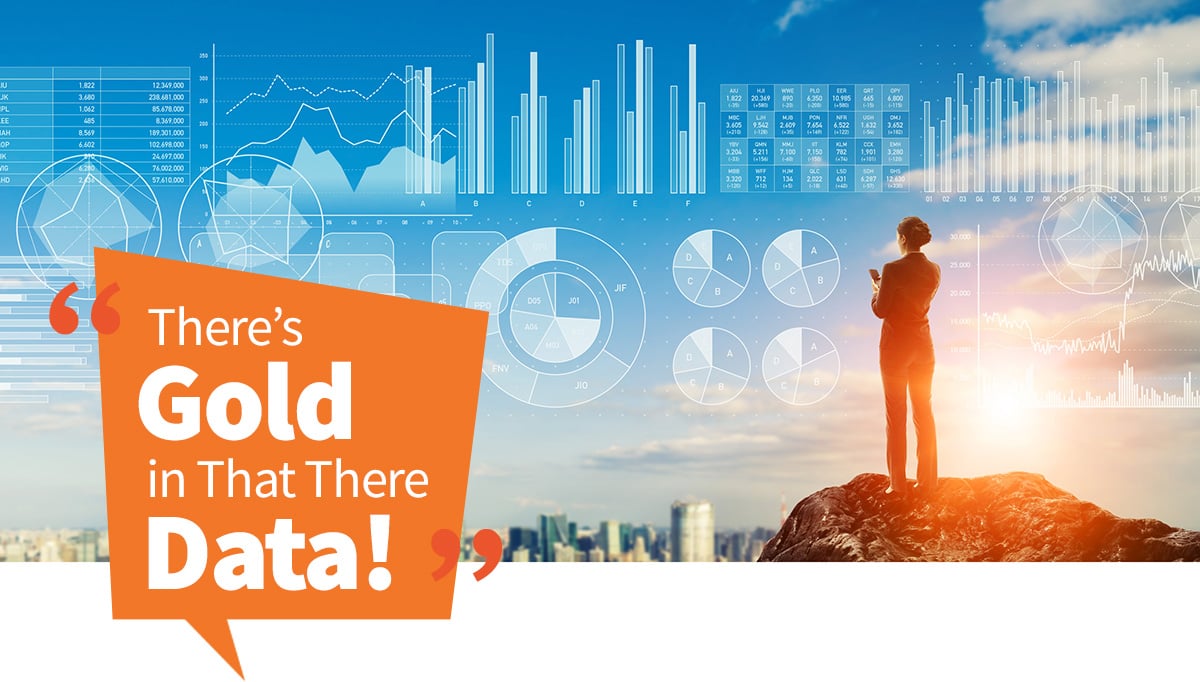 When M.F. Stephenson shouted his famous phrase in a Georgia town square around 1849, "There's gold in them there hills!" he was trying to keep the locals from needlessly heading to California when there was plenty of gold right underneath their feet in the surrounding hills. Slightly modified, "There's gold in that there data!" is a fitting phrase to remind financial institutions of today that they are sitting on a data goldmine. If you are a bank or a credit union, you house a tremendous amount of data about your customers, enough to make most other industries green with envy.
Analytics Insight agrees, "Banking and the Financial Services Industry is a domain where the volume of data generated and handled is enormous. Each and every activity of this industry generates a digital footprint backed by data." It's not only personal information and security data, but also a tremendous amount of transactional information. So, if you're sitting on a goldmine, grab a shovel. You should be digging, and the tools to do that are readily available.
You should be using the power of the marketing automation tool to talk smarter to your customers. This means knowing who they are, what they want, and when to talk to them about it. Good examples of the types of beyond-onboarding capabilities to consider include,
Virtually every financial institution today has a core data set created and expanded by customer account information and transactions. Harnessing that information for a better understanding of who your customers are and where they are going requires additional work. There is also data to be had from third-party vendors, but the volume and potential usefulness of a financial institution's in-house data is powerful all on its own. If relationship building is your goal, you likely know more about your customers than any third-party source. According to The Financial Brand, "Customer data typically resides in silos across lines of business . . . as such, banks lack a seamless 360-degree view of the customer. Further, many banks have inflexible legacy systems that impede data integration and prevent them from generating a single view of the customer." In other words, financial institutions have a lot of data, but it is fragmented, and they are not using it or can't get to it in a useful way. More commonly today, banks and credit unions are employing the use of CRM's to help with this.
The CRM adds the ability to view information from multiple data sets as well as another layer of information gathering (e.g., information gathered and recorded during a customer interaction with a branch employee). Good CRM's bring data together from several sources, then offer a thorough and well-rounded view of a customer through an easy-to-use interface. It is the tool financial institutions need to understand their customers better and engage in a more informed relationship with them. With the proper use of a CRM, a bank or credit union is better prepared to offer the right product or service at the right time to the right customer. This uncovering and assimilation of data is a shovel of sorts—important to have when you are digging for gold.
Marketing Automation Uses the Gold in a Big Way
Once you have access and control of your data, once you're "digging it up," marketing automation is one way to make use of all the data you unearth. It is the tool to use for scaling meaningful interactions with customers and prospects by helping you efficiently communicate with all your customers proactively and strategically. Automating marketing tasks not only creates timesaving efficiencies, but also ensures reliable repetition, and scaling personalization can translate into a real increase in wallet share.
The accumulated data financial institutions house is a gold mine because of the story it tells about each customer. Reading that story, interpreting it, and responding to it require extra tools. When it comes to gold mines, a shovel is an important first step. Add a tool like marketing automation for the expanding use of your now accessible, organized data, and growth is likely to follow.
If you want to do more than just sit on your data goldmine, consider talking to an industry provider that can help you get started outfitting yourself to dig in and use the valuable data that you already have available in-house. 360 View is the CRM platform created by bankers for bankers. It not only offers an easy-to-use and robust CRM, but several additional tools including a marketing automation module.
If you want to learn more about 360 View, let us know! Fill out the form below and we will be in touch.