How to Make Your Digital Customer Experience More Human
Crisis has a way of reordering our priorities. So if you've been wondering how to muster the motivation to fine-tune your organizations' digital customer experience, wonder no longer.
The crisis of the last couple of years has changed business for all of us. Because the coronavirus pandemic lead to government mandated stay-at-home orders, the bank lobbies were empty for weeks, and digital banking became king—whether you were ready or not.
Regardless of how or why, your digital banking presence has moved to the front of the line. This fact is enough to take a close look at the quality of your digital customer experience. For many of your customers, it is the ONLY customer experience they are currently having with you, so it is crucial to do it well. Communicating to customers that you know them, are listening to them, and care about them is not an easy task anytime; and, it is an inherently human task. To do it through your app (or your website or an email) presents its own set of challenges.
With the reduction in real, human interaction, it's time to take on the challenge of making your digital customer experience more human. It turns out, even among millennials, people still want people, so all the ways that you can embed authentic customer connections in the digital experience, all the better.
The Digital Customer Experience Out Front
A common definition of the digital customer experience is any interaction experienced through a digital interface (e.g., computer, tablet, smartphone). And in the last few years, that covers a large percentage of banking interactions. From McKinsey & Company, "As we shelter in place, we are all rapidly accelerating our adoption of digital technologies, whether they be videoconferencing, peer-to- peer payments, or online banking. This increasing comfort with digital technologies and decreased reliance on physical branches could accelerate the transformation of the banking landscape, advantaging the banks with stronger digital capabilities." That last phrase is important: "advantaging the banks with stronger digital capabilities." Digital-only banks are already focused on the digital customer experience, for obvious reasons. However, often this focus on the digital experience (in digital-only banks and traditional banks) is narrowly pointed at usability and interface aesthetics, as if the only aspect a customer cares about is "faster" and "easier."
Not to reduce the importance of usability, but to neglect the opportunity to connect using personal knowledge of a customer is shortsighted. Ensuring that your digital customer experience is delivering as much humanity as possible may be the difference between success and failure. Alex Kreger from UXDA tells us, "Never before has it been so critical to focus on the consumer experience. That will largely determine which financial institutions come out on top after the coronavirus crisis."
The Importance of the Human Element
One of the marvels of the human brain is its ability to make connections and complete pictures; this spills over into our communications. So when I meet someone, I learn a lot in a short time and connect it all together in a nice pack- age that offers a comprehensible whole. For example, it usually means that when you introduce yourself as Kathy, but then hand me your driver's license that says Kathleen, I don't say, "I thought your name was Kathy?" It's this level of consistency and whole-picture retention that marks human interaction.
Humans "get to know" one another. In other words they gather knowledge about each other, not just facts like a birthdate and marital status, but body language, communication subtleties, idiosyncrasies, and the list goes on. The point is we gather details and store them away. It's one of the ways we "get to know" each other. It's why first meetings with people are often filled with questions. We are gathering information that prepares us for relating.
Since people are relational by nature, they take all the details they gather and recall them and use them when they interact with one another. That means I don't just file away the fact that your birthday is April 3rd, but I actually call you and wish you happy birthday on April 3rd. I let all that I have learned about you impact our communication and interaction. This makes the interaction personal.
Translating Human to Digital:
Three Components That Will Make Your Digital Customer Experience More Human
If you think in terms of "digitizing" these three important markers of human interactions, you begin to see how it can add depth and substance to what were two- dimensional functions before.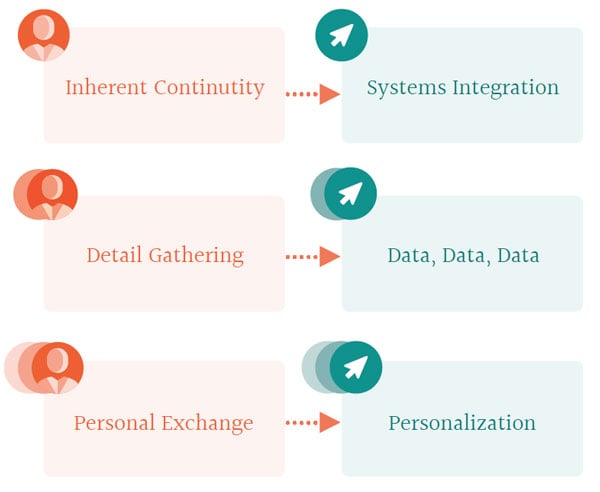 COMPONENT 1: System Integration
When systems are integrated, customers can access the same information from the bank's mobile app, the website, a self-service kiosk, or live chat with a bank employee.
COMPONENT 2: Data, Data, Data
If digital banking is king in the current crisis, surely data is queen. It is important to take the time to gather your customers' specific goals, needs, and wants.
Listen to the CMO from MX, "'Data is the great creator of experiences,' Don MacDonald states emphatically, 'it enables banks and credit unions to be Amazon rather than Sears.'"4 Most institutions are already housing demographic and wealth data on their customers, go the extra mile and gather experiential data like activity tracking data (e.g., details like when, why, and outcome of a customer appointment) or substantive service resolution data including creating and tracking real customer issues. Capture this information in a CRM or data warehouse, and then tailor your customer interac- tions accordingly. Gather the details. Collect data at every touch point. This is how to know your customers.
COMPONENT 3: Personalization
Using all the data you gather, analyze it, and put it to work. Once you know more about who the customer is, do the work of having a relationship with them.
Demonstrate you know your customer at every digital transaction and market- ing opportunity. Rohit Mahna says in The Financial Brand, "The whole concept of personalization – really understanding who the customer is – requires not only understanding what their needs are, but proactively reaching out to them. Don't just send them generic emails. Send solutions that are going to have a real impact on people's needs today."
Data analytic tools offer deep insight into your customers' preferences and behavior, helping you better predict their needs. You can use this technology to automate notification, alerts, and emails and ensure timely communication.
From Alex Kreger, "This is the time to build relationships with your retail and business customers that will last. If financial institutions integrate customer- centricity deep into their DNA, they will be able to stand strong, despite any circumstances. If the main goal is still to make profit, not to help people, it's nearly impossible to survive with such an attitude in the situation of a crisis."
Breathing some humanity into your digital customer experience requires some forethought and the right foundational tools. Your digital interface and its usability are only part of the digital experience; the systems, data, and tools that run underneath are the real keys to making the digital experience more human. You need a robust technology platform to fuel your digital customer experience, and that's what 360 View offers. We've designed our growth platform to be the launching point for all customer experience activity, so you can achieve your customer engagement goals and maximize overall performance.
Our team has deep expertise in banking, marketing, and technology; we know what banks and credit unions face every day because we've been there before. We're dedicated to helping you deliver a more human digital customer experience, one that exceeds your customers' expectations and positions you for long-term success.
If you want to learn more about 360 View, let us know! Fill out the form below and we will be in touch.