Get the Most Out of Your CRM [Webinar]
Technology has changed the way consumers engage with their financial institution. Without sophisticated digital offerings for their customers, banks and credit unions run the risk of losing them to the competition — including fully digital banking solutions. Many banks are turning to CRMs to meet these new demands. But while some CRM benefits are well documented, there are some less obvious CRM benefits that financial institutions should explore.
In this webinar, you will learn how to:
Navigate a company culture change to support a CRM

Leverage a CRM to respond to the demands of an increasingly Millennial-centric workforce

Enhance cross-selling opportunities

Smooth customer transitions during employee turnover episodes

Gain deeper insights into true customer profitability

Webinar Host: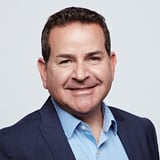 David Acevedo
SVP and National Sales Director | 360 VIEW
As a previous director of sales for a $1.8 billion commercial bank, David developed and directed bank-wide sales strategies as well as incentive compensations programs. His 26 years of banking experience spans Retail Banking, Commercial Business Development, Marketing and Investments and Insurance. Currently he directs all sales efforts for 360 View.